Zakonska strana rabljenog softvera velika je tema za naše kupce, kao i za sve one koji razmišljaju o njegovoj kupnji. Prije nego što se upustimo u ono što naša tvrtka konkretno pruža kao dokaz o zakonitosti, važno je prvo ukratko pogledati što je propisano zakonom.
Na temelju europskih pravnih akata i sudskih odluka, (npr. direktiva 2009/24/EC, odnosno odluka Suda Europske unije u predmetu C-128/11), formirana su četiri pravna uvjeta za pravni prijenos vlasništva softvera. Ispunjavanje ovih uvjeta dokazuje se popratnom dokumentacijom koja sadrži sve potrebne podatke i služi kao dokaz (npr. prilikom revizije softvera) da su programski proizvodi uistinu Vaši. Vaša je tvrtka izložena visokom riziku od velike novčane kazne ako ne uspijete dokazati svoje zakonsko vlasništvo.
Koja su četiri zakonska uvjeta za prijenos vlasništva softvera i kakva Vam je dokumentacija potrebna?
Potrebni uvjeti u skladu s EU pravom
Prva zemlja izdavanja i kupnje proizvoda bila je unutar EU/EEA ili Švicarske.
Proizvod je u cijelosti plaćen vlasniku autorskih prava.
Proizvod je trajan bez vremenskog ograničenja korištenja (nije pretplata).
Proizvod više nije korišten od strane prvog/prvih vlasnika.
Dokumentacija
Svaki prodavač rabljenog softvera zakonski je dužan dostaviti podatke koji potvrđuju ispunjenje gore navedenih uvjeta. Ove informacije nalaze se u popratnoj dokumentaciji koju uvijek trebate dobiti prilikom kupnje, kako biste imali dokaz da ste pravi vlasnik kupljenih licenci. Ne postoji službeni predložak za vizualni izgled dokumentacije, ali činjenični sadržaj mora sadržavati sljedeće:
Podrijetlo softvera (prva zemlja upotrebe)
Broj licencnog ugovora
Naziv proizvoda i vrsta licencnog ugovora
Izjavu prvog vlasnika koja sadrži:
- Izjavu o deinstalaciji softvera
- Potvrdu da su proizvodi trajni i da su u potpunosti plaćeni
- Potvrdu da su proizvodi prvi put kupljeni i stavljeni u uporabu u EU/EEA ili Švicarskoj.
NA ŠTO TREBA PRIPAZITI: Postoje različita web-mjesta, e-trgovine, a ponekad i pojedinci koji prodaju čak i najnovije verzije softvera po vrlo niskim cijenama. Kvaka je u tome što mnogi od njih prodaju samo ključeve proizvoda, a ne same proizvode, tako da nemate nikakva zakonska prava na njih. To je kao da kupujete i posjedujete ključ od kuće umjesto same kuće. Ključ softverskog proizvoda i račun izdan od strane prodavača ne jamče zakonitost niti vlasništvo softvera kojem pripadaju. Neka Vas ne zavara činjenica da Vam ključ omogućuje aktiviranje softverskih proizvoda – aktivirani proizvod ne znači da ste njegov vlasnik i da ga imate zakonsko pravo koristiti. To dokazuje samo odgovarajuća pravna dokumentacija za Vaše kupljene softverske licence.
Koje dokumente dobivaju naši kupci?
Mi u Forscopeu pružamo potpunu pravnu dokumentaciju spremnu za reviziju . Međutim, morate imati na umu dvije važne stvari:
1. Forscope pravna dokumentacija dostupna je samo za Microsoftove trajne proizvode
Razlog je jednostavan – softverske proizvode drugih proizvođača ili oni izravno prenose Vama (Autodesk) ili ćete od njih (Adobe) dobiti dokument potvrde prijenosa.
2. Postoje različite verzije pravne dokumentacije koju pružamo
Budući da rabljeni softverski proizvodi mogu potjecati iz različitih izvora, može se razlikovati i broj dokumenata te količina informacija koju možemo podijeliti. To je zato što neki (ili čak svi) od njih mogu biti zaštićeni ugovorom o povjerljivosti podataka ili Općom uredbom o zaštiti podataka te mogu biti dostupni samo revizoru na zahtjev.
Evo uzoraka pravne dokumentacije koju možete dobiti od nas:
Dokumentacija s povjerljivim informacijama redigiranima
Dokumentacija s povjerljivim informacijskim prikazima
Uzorak pravne dokumentacije koju biste dobili nakon kupnje konkretnog proizvoda također možete pronaći u pojedinostima o proizvodu ovdje: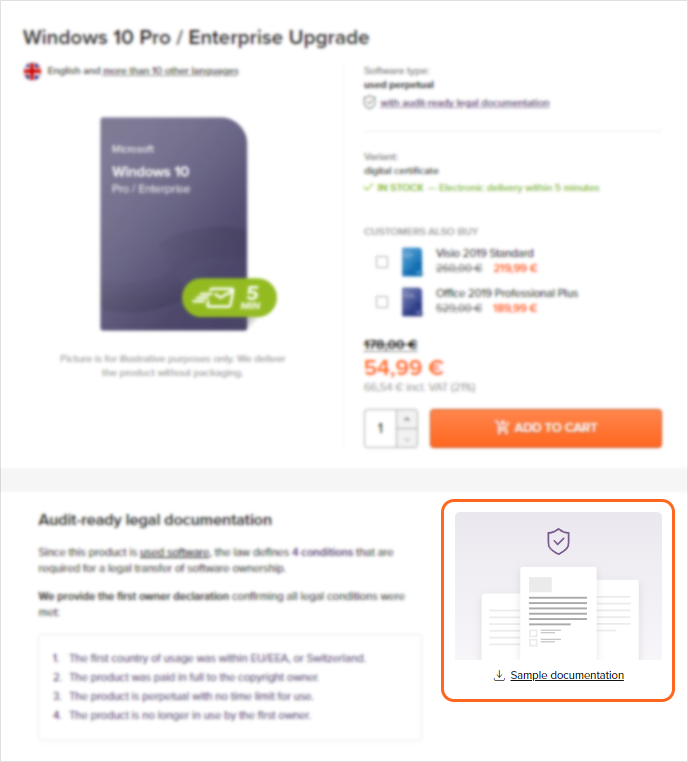 Imate li pitanja u vezi s dokumentacijom koju dostavljamo? Slobodno nas kontaktirajte.
 Spremi ovaj članak kao PDF