Ovaj je vodič namijenjen Volume Office proizvodima, kao što su Office 2019 Standard i Office 2019 Professional Plus.
Prije instaliranja softvera provjerite sljedeće:
Vaše računalo ispunjava sistemske zahtjeve za Office 2019;
Vaš je trenutni operativni sustav u toku s najnovijim ažuriranjima sustava Windows,
sljedeći Office-i nisu instalirani na računalu (ako jesu, deinstalirajte ih):
Office Home and Student, Office Home and Business, Office Professional, Microsoft 365 aplikacije za stolna računala, My Office.
Vodič korak po korak
Idite na onesam.eu i prijavite se e-poštom i brojem narudžbe.
Preuzmite i pokrenite našu aplikaciju Office 2019 Volume Installer.exe.
Možda ćete vidjeti sljedeće upozorenje:


Ova se poruka javlja jer je aplikacija potpuno nova i još nije stekla pouzdani status u Windows sigurnosnim sustavima. Kliknite na "Više informacija" ("More info") i odaberite "Svejedno pokreni" ("Run anyway").
Kad se otvori instalacijski program Office 2019 Volume Installer, to izgleda ovako:


Na padajućem popisu "Product" odaberite proizvod koji ste kupili od nas.
U polju "Components" možete ukloniti oznaku Office-ovih aplikacija koje ne planirate koristiti.
S padajućeg popisa "Platform" odaberite vrstu arhitekture Vašeg proizvoda: 32-bitnu ili 64-bitnu.
Obično je najbolje odabrati 64-bitni – na ovaj način Vaš će se proizvod bolje ponašati na modernim operativnim sustavima i uređajima.
S popisa "Language" odaberite jezik za Vaš proizvod.

Kada završite s prilagođavanjem instalacije, kliknite "Download & Install".
Sada samo pričekajte da se Vaš proizvod instalira. Zelena traka napretka u programu za instalaciju napunit će se nekoliko puta i pojavit će se neki dodatni prozori - ovo je normalno i dio je postupka.
Nemojte zatvarati instalacijski program i njegove dodatne prozore jer će se instalacija prekinuti!
Office je potpuno instaliran kada vidite ovaj prozor: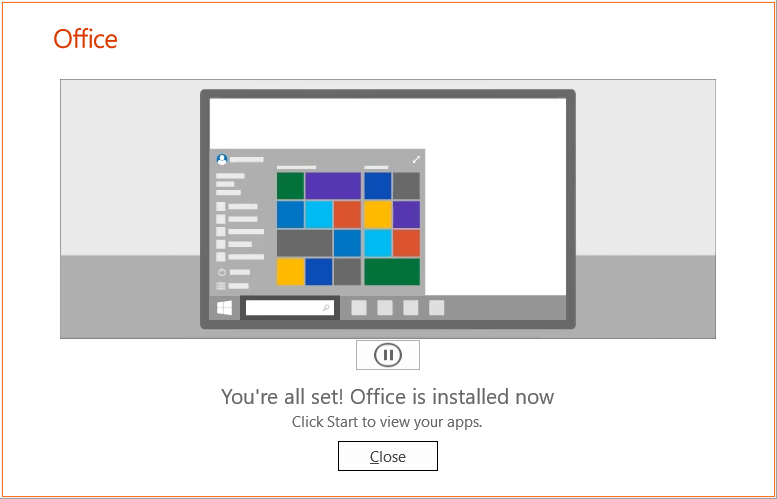 Sada možete zatvoriti instalacijski program i nastaviti s aktiviranjem proizvoda (idite na karticu Aktivacija za upute).
Vodič korak po korak
Nakon što instalacija sustava Office 2019 završi, morate aktivirati svoj proizvod kako biste dovršili postupak.
Pokrenite bilo koju aplikaciju Office 2019, na primjer Word.
Otvorite prazan dokument.
Idite na izbornik "Datoteka" ("File") → "Račun" ("Account") i kliknite "Promjena ključa proizvoda" ("Change Product Key") u žutom polju.


Unesite ključ proizvoda u skočni prozor i trenutak kasnije pojavit će se gumb "Aktiviraj Office" ("Activate Office") – kliknite ga i Vaš će proizvod biti aktiviran i spreman za upotrebu.