Ovaj je vodič namijenjen Volume Office proizvodima, kao što su Office 2016 Standard i Office 2016 Professional Plus.
Prije instaliranja softvera, pobrinite se da:
Vaše računalo ispunjava sistemske zahtjeve za Office 2016;
Vaš je trenutni operativni sustav u toku s najnovijim ažuriranjima sustava Windows,
sljedeći Office-i nisu instalirani na računalu (ako jesu, deinstalirajte ih):
Office Home and Student, Office Home and Business, Office Professional, Microsoft 365 aplikacije za stolna računala, My Office.
Vodič korak po korak
Idite na onesam.eu i prijavite se e-poštom i brojem narudžbe.
Kliknite svoj Office proizvod u izborniku s lijeve strane i odaberite bit verziju:

32-bitna – preporučuje se za starije uređaje i sustave.
64-bitna – preporučuje se za optimalne performanse na novim sustavima.

Odaberite jezičnu verziju sustava Office s padajućeg izbornika ispod opcija bitne verzije.
Preuzmite ISO datoteku, a zatim je otvorite i pokrenite datoteku setup.exe.
Možda će se pojaviti mali prozor s pitanjem želite li aplikaciji omogućiti izmjene na Vašem uređaju – kliknite "Da" ("Yes").
Zatim prihvatite uvjete usluge za nastavak, te onda kliknite "Instaliraj odmah" ("Install Now").
Pričekajte da instalacija završi.
Office je potpuno instaliran kada vidite ovaj prozor: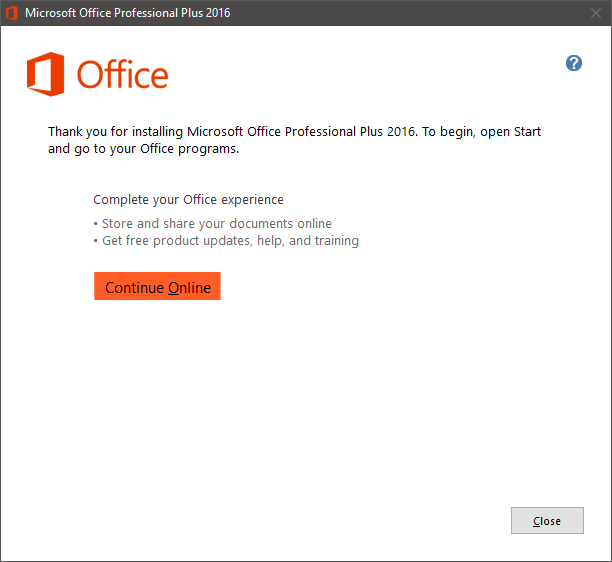 Kliknite "Zatvori" ("Close") i nastavite s aktivacijom proizvoda (idite na karticu Aktivacija za upute).
Vodič korak po korak
Nakon što instalacija sustava Office 2016 završi, trebate aktivirati svoj proizvod kako biste dovršili postupak.
Pokrenite bilo koju aplikaciju Office 2016, na primjer Word.
Otvorite prazan dokument.
Idite na izbornik "Datoteka" ("File") → "Račun" ("Account") i kliknite "Promjena ključa proizvoda" ("Change Product Key") u žutom polju.


Unesite ključ proizvoda u skočnom prozoru i trenutak kasnije "Instaliraj" ("Install") gumb će postati aktivan – kliknite ga i Vaš će proizvod biti aktiviran i spreman za upotrebu.