Web usluge i cloud tehnologije neprestano poboljšavaju i proširuju svoj utjecaj kako na kućne korisnike, tako i na tvrtke, ali ojačana povezanost dolazi sa značajnom dozom prijetnji privatnosti na mreži i sigurnosti podataka. To je razlog zašto VPN neprestano postaje vrijedan široko rasprostranjen alat protiv invazivnih entiteta i zlonamjernih napada. Ali što je to točno i kako djeluje?
Definicija
VPN (Virtual Private Network) šifrirana je veza (VPN tunel) između uređaja korisnika (VPN Client) i privatne mreže (VPN Server). Sav promet koji se putem interneta prenosi putem VPN tunela zaštićen je posebnim VPN protokolima koji osiguravaju sigurnost prijenosa podataka i komunikaciju, tako da ga niti internetski pružatelj usluga niti širi internetski sadržaj ne mogu presresti ili dešifrirati.
Pojednostavljeni dijagram osnovnog VPN-a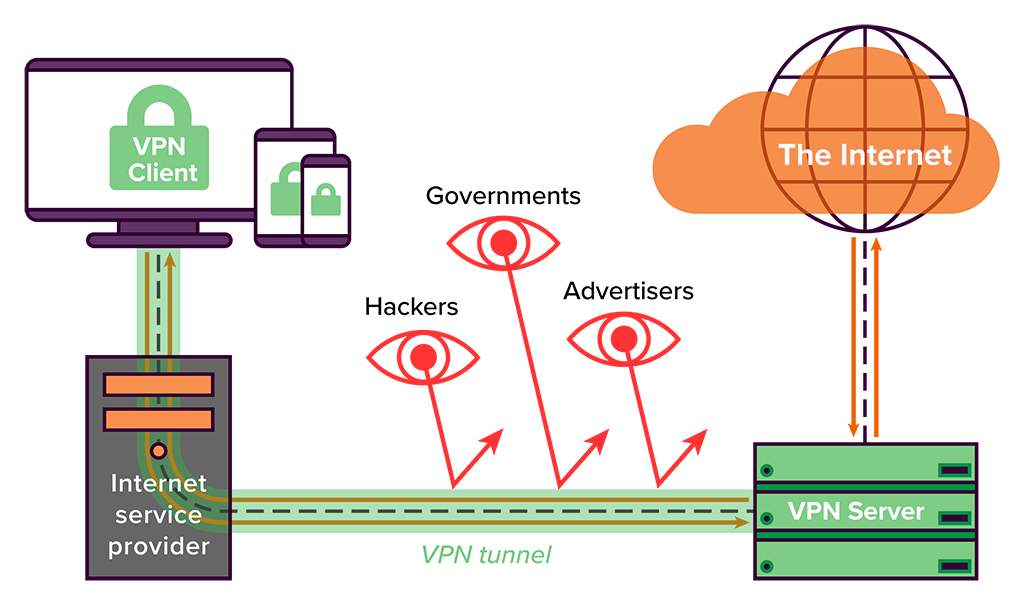 Postoje dvije glavne vrste VPN-a:
1. ‌VPN za daljinski pristup (Remote Access VPN) – sigurna veza s mrežom poslužitelja VPN pružatelja usluga koji omogućuju daljnji pristup javnom Internetu;
najčešće ga koriste: kućni korisnici, mala i srednja poduzeća; jednostavno postavljanje i održavanje;
tipična upotreba: pristup geo-ograničenom sadržaju, sigurna veza s uredskom mrežom tijekom poslovnih putovanja (čak i preko javnog WiFi-a).
2. ‌Site-to-Site VPN (Router-to-Router VPN) – sigurna veza između privatnih mreža određene organizacije (Intranet) ili između njegove privatne mreže i njenih vanjskih partnera (Extranet);
koju najčešće koriste: velika tijela (poput korporacija ili vladinih organizacija), koja zahtijevaju konfiguriranje i održavanje, zahtijevaju značajna sredstva;
tipična upotreba: korištenje mreže središnjeg ureda organizacije s drugog zemljopisnog položaja (može biti drugi grad, država, kontinent itd.).
Prednosti
VPN nudi brojne prednosti u komercijalne i nekomercijalne svrhe. Pogledajte kako možete imati koristi od njega na sljedećem popisu:
Privatnost – VPN zaustavlja sve pokušaje praćenja. Kriptografski protokoli koji se koriste u VPN tehnologiji dizajnirani su na takav način da samo dvije strane mogu dešifrirati promet koji prolazi kroz VPN – Client i Server na svakom kraju VPN tunela.
Sigurnost – VPN štiti osjetljive poslovne podatke. Kršenje podataka može dovesti do znatne štete za tvrtku, poput naknada za kupce, otkrivanje poslovne tajne, gubitka povjerenja i ugroženog korporativnog imidža.
Mobilnost – VPN može povećati mobilnost i fleksibilnost poduzeća – uredskoj mreži može se pristupiti uredskim mrežama u bilo koje vrijeme i bilo gdje, zaobilazeći geo blokove, pa čak i javni WiFi može se koristiti bez opasnosti.
Trošak – VPN može poslužiti kao značajno jeftinija alternativa fizičkim privatnim mrežama; može dodatno smanjiti troškove zahvaljujući mogućnosti postavljanja udaljenih ureda i outsourcing zaposlenika.
Besplatne u odnosu na plaćene opcije
U pravilu su kvalitetne usluge rijetko besplatne, a VPN-ove nisu iznimka. Pa kako pružatelji besplatnih VPN-a pokrivaju svoje operativne troškove? Osim uobičajenog, ali bezopasnog pristupa postavljanja oglasa na softversko sučelje, postoje i štetne metode koje vam mogu uzrokovati puno problema, kao što su:
Usluga koja je zaražena zlonamjernim softverom koja zloupotrebljava resurse uređaja i neprestano prikuplja osobne podatke i pojedinosti o upotrebi korisnika, a zatim ih prodaje brokerima podataka, oglasnim agencijama, vlastima itd.
Skriveno kršenje privatnosti zbog kontroverznih klauzula o uvjetima pružanja usluge koje korisniku dovode do davanja pristanka za prikupljanje i daljnju distribuciju njegovih osobnih podataka (primjer: Facebook je sada pokvario aplikaciju Onavo).
Neovlaštena uporaba zlonamjernih agenata – korisnik je prevario u pristupu svom uređaju pristup agentima treće strane, koji tada mogu dobiti potpunu kontrolu nad njim, stvarajući idealno okruženje za ilegalne aktivnosti poput hakerskih napada (primjer: Hola VPN i Luminati mreža).
Može biti vrlo primamljivo odabrati besplatnu uslugu umjesto plaćene, ali kad je u pitanju VPN, toplo savjetujemo da odaberete plaćenu. Postoji puno VPN pružatelja usluga koji pružaju sjajne usluge po povoljnim cijenama.