www.forscope.hr
AutoCAD LT 2018 – trajno vlasništvo
AutoCAD LT 2018 – trajno vlasništvo
engleski i
10 drugih jezika
njemački
francuski
talijanski
portugalski
španjolski
ruski
madžarski
češki
poljski
kineski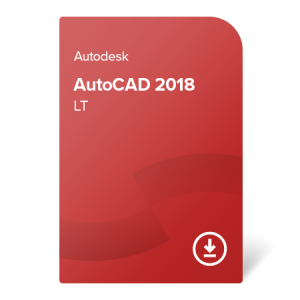 Slika je ilustrativna. Proizvod se isporučuje bez ambalaže.
Elektronički certifikat
Nema datuma isteka
Kompatibilan je sa sustavom Windows OS i macOS
Prijenos na račun krajnjeg korisnika može potrajati do 6 radnih dana
Vrsta proizvoda:
puna verzija; postoji mogućnost da je nadograđena ugovorom o održavanju s vlasnikom autorskih prava
Vrsta distribucije:
elektronički certifikat; pojedinačna licenca (može se koristiti samo na uređaju na kojem je instalirana)
Rabljeni softver:
da; isporučujemo svu potrebnu dokumentaciju u skladu s zakonima EU
Vrijedi:
doživotno
Prenosivost:
prenosiv
Način instalacije:
instalacija iz instalacijske datoteke proizvođača (pružamo vezu za preuzimanje datoteke)
Arhitektura:
32/64 bit
Kompatibilnost s OS-om:
Windows, macOS
Upotreba:
može se prenijeti na Autodesk račun
Jezik:
višejezični softver
2021
Certifikat o softveru
Dokumentacija u skladu s EU zakonima (Izjava prodavatelja)
Potvrda kupnje (faktura)
Instalacijska datoteka za preuzimanje
Procesor:
1 GHz
Memorija:
4 GB RAM
Prostor na tvrdom disku:
6 GB
Operacijski sustav:
Windows 7 SP1, 8.1, 10; macOS 10.11 ili noviju inačicu
Razlučivost zaslona:
1360×768 ili viši prikaz
Grafika:
DirectX 9 grafički procesor
Preporučujemo:
AutoCAD LT 2017 – trajno vlasništvo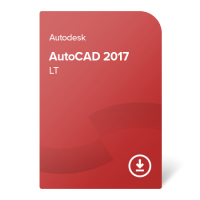 Cijena na upit
AutoCAD LT 2022 – trajno vlasništvo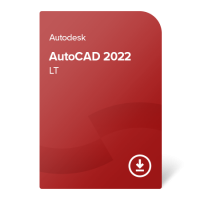 Cijena na upit
AutoCAD LT 2016 – trajno vlasništvo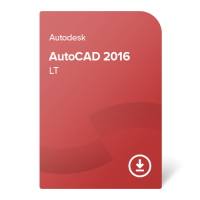 Cijena na upit
AutoCAD LT 2018 – trajno vlasništvo
AutoCAD LT Izdanja nude brzu, preciznu i pojednostavljenu, a profesionalnu implementaciju 2D skica i dokumentacija. Dizajniran prije svega za manje zahtjevne korisnike i zadatke, nudi povoljnije rješenje za vaš tim od pune verzije AutoCAD-a.
Poboljšani 2D alati za crtanje povećavaju efikasnost i preciznost vašeg tima i smanjuju ponavljajući rad – pored standardnog vektorskog crtanja, vektorskim crtežima možete priložiti bitne slike kao vanjsko povezane datoteke, brzo pregledavati, pristupati, upravljati i crtati više crteža nego lista i uživati u radu u pojednostavljenom intuitivnom sučelju.
Zahvaljujući tehnologiji TrustedDWG, možete dijeliti svoj rad s ostalim članovima tima na radnoj površini, mobilnim platformama i u oblaku; uz to, datoteke stvorene s njim kompatibilne su sa svim ostalim Autodesk proizvodima.
Nove značajke u AutoCAD LT 2018

Uvezi PDF – Uvezite geometrijska tijela, punila, datoteke sa fontom, tekst TrueType i rastere iz PDF-a
Vanjske reference datoteka – Na njih se lako popravlja oštećena, oštećena staza datoteka
Odabir objekata – Odabrani objekti ostaju odabrani čak i kada pomičete ili povećavate prikaz na zaslonu
Text to Mtext – Pretvaranje kombinacija teksta s jednom i više linija u jedan objekt
Korisničko sučelje – Radite intuitivno s zajedničkim dijalozima i alatnim trakama
Dizajnerski prikazi – Uredite i upravljajte prikazima i crtežima AutoCAD-a na mreži s bilo kojeg računala pomoću Autodesk A360
Podrška za monitor visoke razlučivosti – Uživajte u jasnom i glatkom doživljaju gledanja, uključujući 4K zaslone i veću razlučivost
Licenciranje
Uživajte u prednostima AutoCAD LT 2018 za svoju malu tvrtku ili organizaciju s dugoročnom, trajnom licencom za jednog korisnika – idealnom za uspostavljene 2D CAD korisničkih timova (poput arhitekture, inženjera i građevinskih stručnjaka) s dodijeljenim radnim stanicama. Licenca je za jednog korisnika i može se aktivirati samo na jednom uređaju, ali je i prenosiva – možete je ukloniti s jednog uređaja, a zatim je aktivirati na drugom, sa službenim alatom za prijenos licenci  License Transfer Utility tool.
---
Tražite klasičnu, punu verziju AutoCAD-a 2018?
Kontaktirajte nas – mi to možemo ponuditi.
Koja je razlika između AutoCAD LT-a i klasičnog AutoCAD-a?
| | | |
| --- | --- | --- |
| Svojstvo | AutoCAD LT | AutoCAD |
| 2D skice, crteži i dokumentacija | | |
| 3D modeliranje i vizualizacija | | |
| Skup alata specifičnih za industriju | | |
| Oprema za crtanje s dimenzijama, tekstovima i tablicama | | |
| Personalizacija alatnih traka i paleta | | |
| Prilagođavanje API-ja | | |
| Dohvatite podatke o objektima izravno iz tablica | | |
| Uvoz i referentni podaci iz PDF datoteka | | |
| Licenciranje za jednog korisnika (uređaj) | | |
| Višestruke korisničke licence (mreža) | | |